Yesterday I hung out with my friend
Caroline
, and we made cute Halloween plates that we wanted to try after getting the idea
here
. It was a fun project and even tough I tough my plates were not going to turn out that great, I love them now!...(if you are going to try making them, remember to not put them in the oven with the sticker on.....good lesson learn the hard way:)
..here we are...working hard...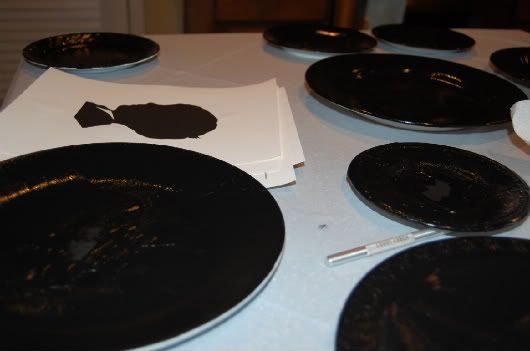 ...and also I've been looking for more things to decorate my house for Halloween....loved this black roses...

...this cute little frames...

...and I got two of these...I don't know what am I going to do with them, but I will think of something!...I'm loving this Halloween decorating thing!
~

*

~

*

~

*

~

*

~

*

~

*

~
Ayer estuve en casa de mi amiga
Caroline
hasta las tantas haciendo estos platos para decorar mi casa por Halloween...Podeis ver como se hacen
aqui
. Tardamos un monton, pero merecio la pena...todavia no se donde ponerlos!..Ademas hoy he comprado algunas cosillas mas para la casa, como estas flores negras, los marquitos y lo ultimo que ni se lo que es ni donde lo voy a poner!...en fin que me lo estoy pasando bomba con tanta decoracion!!!...